Smoking Cessation Tracker
If you're planning to quit smoking by reducing your nicotine intake, the smoking log is a helpful quitting companion.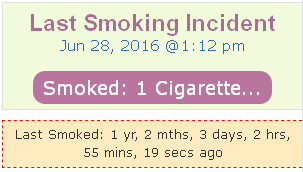 Quickly see when and how long since you last smoked.
Track each cigarette you smoke including smoking triggers.
Set goals for cigarette reduction by upcoming dates.
Track nicotine withdrawal symptoms with the Symptom Tracker
Use Weight Tracker to monitor if quitting causes weight gain.
View smoking cessation progress charts: daily, weekly, monthly.
View your smoking log, along with symptoms and weight
If you plan to quit smoking soon by going cold turkey or using nicotine replacement products, use the smoking log to keep track of how much you are smoking until your planned quit day.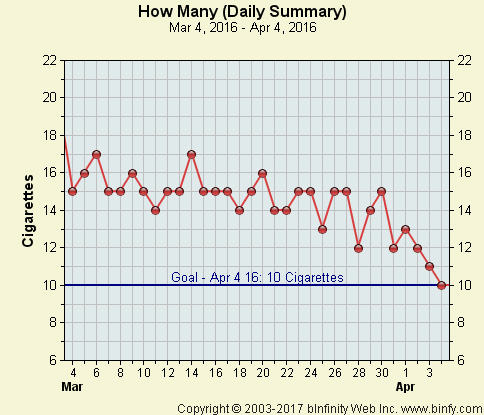 The smoking tracker chart shows how much you smoked daily. Also view monthly smoking trends. Smoking cessation reduction goals display.
The smoking log is also useful if you have a setback in your quit smoking journey, so you can track when, how much, and why you started smoking again.
Our smoking tracker works on PCs, laptops, tablets, and smartphones. Use on all your web-enabled devices.
Related Quit Smoking Tools & More