Sleep Tracker Log, Sleep Charting
Easily track and monitor your sleep patterns online and smartphone for free: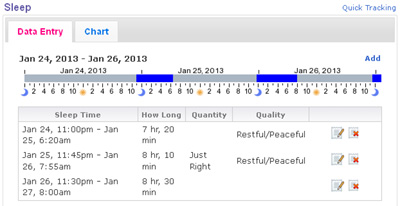 Track when you sleep - interruptions auto-calculated.
Rate and chart your sleep quality and quantity
Track/chart sleep aids and sleep related symptoms
Dashboard displays your weekly/monthly sleep stats
View/print your sleep reports over any date range
Sleep calendar - daily sleep log, monthly summary
Shift workers - sleep cycle option calibrates reports
Quick sleep tracker: click to sleep, click I'm awake!
Not a member?
Join now and start your sleep log
Related Sleep Tools & More