Free Blood Glucose Tracker, Glucose Level Charts
Track and monitor your blood glucose levels throughout the day, and view your summary charts to easily see glucose level fluctuations.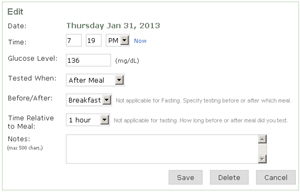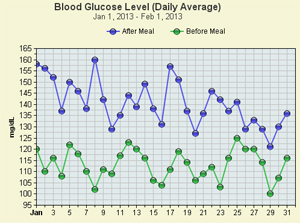 Track your glucose levels online or from your web enabled mobile smartphone (always in sync!)
Enter the glucose level reading reported by your blood sugar meter, and test time.
Enter when you tested your blood sugar level: after fasting, before or after a meal.
When testing glucose before or after a meal, you can log which meal, and time relative to it.
View your glucose log book report over any time period. Opt to add in related symptoms and medications.
Blood glucose chart shows average daily levels, based on when you tested - after fasting, before meals, after meals.
Also available: free food log tracker, medication tracker, weight tracker.